Exxon's 6% Dividend Yield: Worth The Risk For Income Investors? - Investing.com
After sustaining a severe blow last year in the middle of the global pandemic, Exxon Mobil (NYSE:) is now showing some strength.
The largest U.S. and producer posted its highest profit in the past few years last month when it reported its amid surging commodity and chemical prices. 
The Irving, Texas-based energy supermajor posted adjusted earnings of $1.10 a share in the second quarter, its best in more than two years. Chemical profits were the highest on record. 
This turnaround makes Exxon's 6% dividend yield more attractive for income investors who are looking to add a quality dividend stock to their income portfolios. But before making a buying decision, it's important to understand that Exxon has changed a lot during the past two years. And its current focus isn't returning more cash to investors.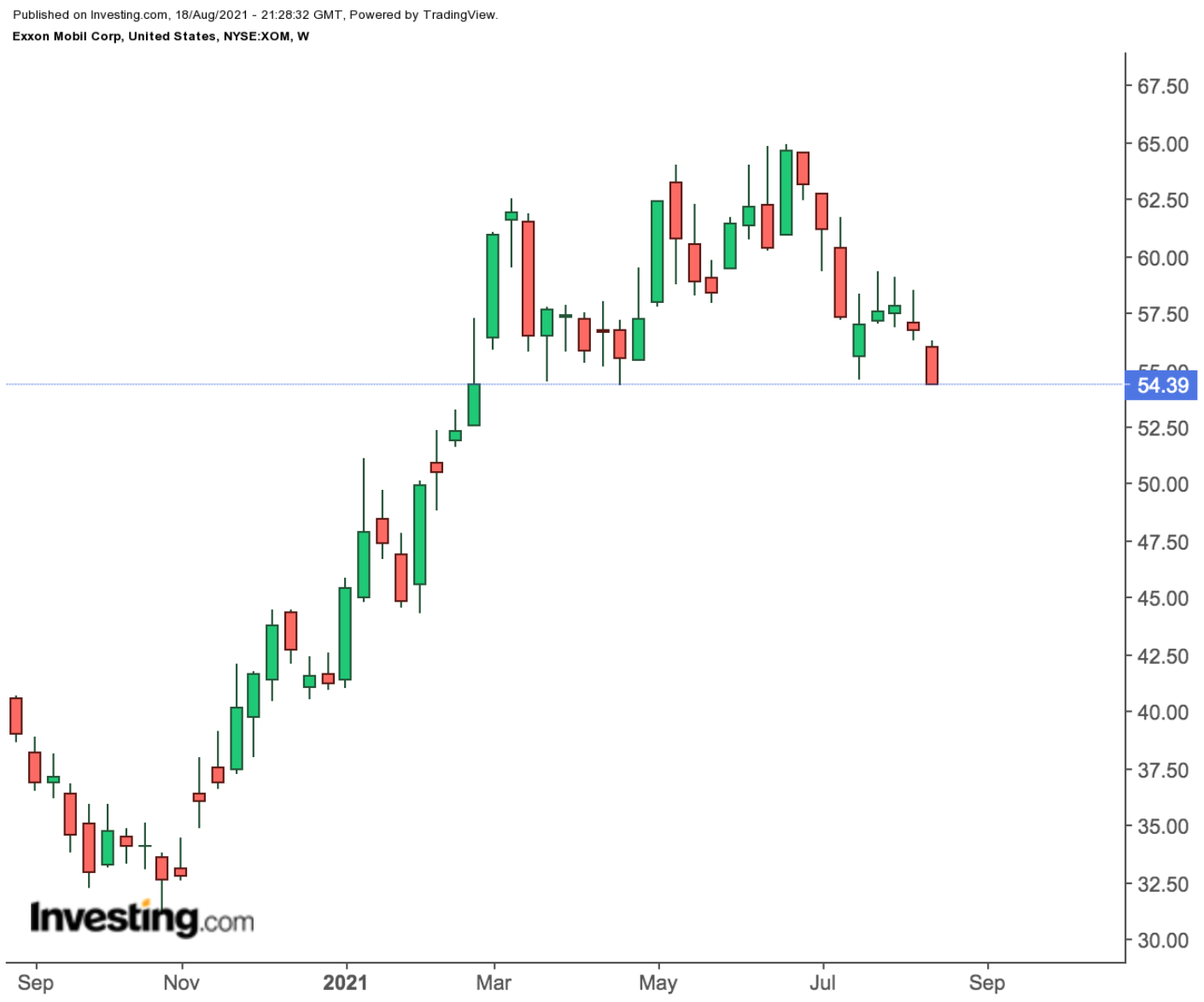 Exxon Weekly Chart.
After a damaging two-year period during the global health crisis that sapped oil and gas demand, Exxon has emerged in a weakened position. During that period, the company burned through nearly $28 billion in cash, borrowed heavily to fund the 's third-largest dividend, and endured the pandemic-driven shutdown of economies around the world. 
To deal with this crisis, Exxon drastically slashed its capital spending and let go of 14,000 employees. As if those shocks weren't enough, Chairman and Chief Executive Officer Darren Woods also lost a proxy battle earlier this year to activist investor Engine No. 1. Exxon was forced to replace a quarter of its board with candidates pledging to improve financial returns and the company's climate strategy. 
Balance-Sheet Repair
Post all those losses, Exxon is now more focused on repairing its balance sheet before it considers hiking its $0.87-a-share quarterly dividend. The company's net debt jumped by about 40% to a record $68 billion in 2020.
That being said, the stock's 6% dividend yield looks much safer than a year ago, when oil demand was depressed and the company's cash flows were not enough to cover its payouts. In the latest earnings report, the company said it generated $9.7 billion of cash flow from operations which was sufficient to cover dividends, capital investments and debt reduction. 
In addition, the company's chemical business is thriving. Demand for chemicals in general has held steady despite the stall in economic activity globally. Demand for polyethylene, one of Exxon's main chemical products, has been "incredibly resilient throughout the COVID-19 pandemic, despite being historically somewhat correlated to overall GDP," according to a report from Citigroup.
Encouraged by this strength, Bank of America reiterated Exxon as a top pick. In a recent note it said: 
"We continue to believe XOM will be differentiated through the recovery with outsize free cash flow to support a resumption of dividend growth that we expect before year end."
Bottom Line
Exxon's 6% dividend yield is contingent on many risks that are associated with XOM stock, including volatile energy markets, the involvement of an activist investor and the fast-spreading Delta variant.
Despite all those hazards, Exxon's dividend is much safer than it was last year. At 13 times forward 12-month earnings, Exxon shares, which closed at $54.39 on Wednesday, could be a bargain compared with its 10-year average.